Here are some answers to frequently asked questions.
Do not hesitate to contact us via the contact form in case of difficulty.
How do I get a license?
Just click on the "Store" link on this site or Purchase from PdfStamper.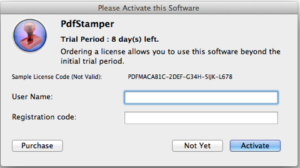 Once your purchase is complete, you will receive an invoice that contains a serial number that will allow you to activate the software.
You can then use all the features of PdfStamper.
What is product activation?
Software activation is the proof of your purchase.
You can activate the software on only one machine at a time.
I want to install on another machine, what should I do?
Before anything else, you must disable your serial number on your old computer.
A PdfStamper licence is required for each computer you want to use.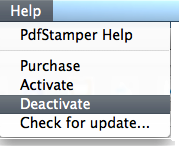 There is no need to uninstall PdfStamper from your computer.
Then, download the software on your new computer, and simply activate it on your new machine, with the name and serial number you received with your purchase invoice.